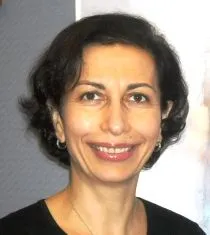 "Orthodontics is a long-term commitment that requires team work between the patient, myself, and my staff. We get to know our patients and their families very well and form strong relationships with them. We see the younger patients grow from kids to teens, and we see our adult patients go through life-changing events. During this time, we improve the health and balance of their bite and the beauty of their smiles. At the end of treatment, our patients are more confident and have a dazzling, balanced smile that will last them a lifetime. This is the best reward for me and why I look forward to going to work every day!" – Dr. Ghazinouri
Dr. Roshan Ghazinouri has had a love of the sciences for as long as she can remember, but also wanted to work with people and make a difference in their lives. So, after completing an undergraduate degree in Biomedical Engineering at Northwestern University, she changed course and went to dental school to be in a health field where she could make an immediate impact on her patients' lives. She completed her Doctorate of Dental Medicine at Tufts University Dental School and her General Practice Residency at New England Medical Center. Dr. Ghazinouri practiced general dentistry for three years before deciding to specialize in orthodontics, which she did at Tufts University Dental School, earning her Certificate in Orthodontics.
As a healthcare provider, it is very important for Dr. Ghazinouri to be up to date with the latest techniques and scientific developments in her field. It allows her to treat patients in the most effective and efficient way in order to get the best results in the shortest amount of time. Dr. Ghazinouri completes extensive continuing education every year through Invisalign®, the Yankee Dental Conference, AAO yearly meetings, Northeast Society of Orthodontics meetings, and many other lectures related to oral health and orthodontics. She is also affiliated with the following professional organizations:
American Dental Association
American Association of Orthodontists
Northeast Society of Orthodontists
Massachusetts Society of Orthodontists
Tri-County Study Club
Dr. Ghazinouri lives with her husband, two daughters, and their golden retriever. When she is not at work, you will find her with her kids or cooking, running, and practicing Yoga. In fact Dr. Ghazinouri and our team have enacted "Namaste Friday", when we support our local yoga studio by joining them for a lunch time class!
Our team at Orthodontics of Melrose are very involved with the community here in Melrose. We support many local charities and athletic teams, like the Melrose Alliance against Violence, Melrose Run for Women, and the Melrose High School football team.